Meet Our Tulip Growers
Meet Our Growers at Sun Valley Farms
The story of a Lane DeVries
Lane moved to America at age 22, in 1983. Securing a job at Sun Valley, Lane came to Arcata, California and built the first Dutch Glass greenhouse to produce lilies and tulips year round. Accomplishing this task, he soon became the Greenhouse Manager, then General Manager and now President and CEO. Lane holds a passion for his company. He wholeheartedly leads the Sun Valley team in producing the finest cut flowers available.
Lane is the epitome of the "American Dream". Through hard work and innovation, he has made the Sun Valley Floral Farm an industry leader.
His encyclopedic knowledge of flowers is stunning. He is a farmer; he works six days a week at the farm. On Sunday he goes to church with his wife and two kids, and if it is football season, he watches the 49ers game.
Lane is very humble, quick to smile and generally you can tell that he loves what he does. He doesn't boast; he lets the flowers his team grows do the talking.
Sun Valley Floral Farm and Community
Arcata, California is a small town nestled in the iconic redwoods of northern California. It has the perfect climate to grow flowers, never very hot or very cold. Rich soil and ample rain make for a flower farm that can produce outstanding flowers, grown with American ingenuity and hard work.
Involvement in the community is just a given. Sun Valley's flowers are donated to many causes, and they work with the business community to help local entrepreneurs grow.
Environmental Stewardship
All of Sun Valley's farms are Veriflora Certified. Sun Valley has been ahead of the curve with their environmental standards long before it was fashionable. Why? It's the right thing to do.
Veriflora Certification ensures Sun Valley flowers are grown sustainably in three key areas: quality handling practices, environmental responsibility and promotion of a healthy, equitable work place.
American Grown Movement
Sun Valley is a huge contributor to the local economy. With 400 full-time employees they are one of the largest employers in their rural community. They don't just source flowers from wherever they can find them. They grow them. The carbon footprint of American grown flowers is much lighter than flowers coming from off shore.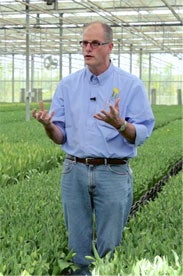 Lane at work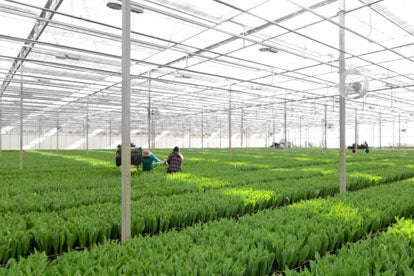 The tulip greenhouse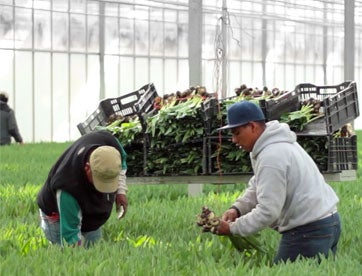 Sun Valley's dedicated growers
See the Difference Soil Grown Makes
SOIL VS WATER:
Sun Valley tulips are grown just as Mother Nature intended: in soil, after going through a nice, cold "winter". Only premium size bulbs are grown, producing a sturdy plant with larger buds, darker foliage and a superior vase life. Study after study confirms that the quality of soil-grown tulips surpasses water-grown tulips!
WEIGHT:
Sun Valley tulips weigh 45 grams average (more than double the average of others). Their impressive weight reflects the bloom size, strong stems and overall healthy hydration.
FOLIAGE:
Sun Valley growing processes produce dark, intense green leaves throughout the vase life of the tulip.
HARVEST:
Sun Valley tulips receive proprietary post harvest treatment resulting in consistent high quality.
COLD CHAIN:
Sun Valley facilities in Arcata, California include 170,000 sq. ft. of coolers and a state-of-the-art pre-cooling system–the foundation of professional cold chain management. Their tulips ship in environmentallycontrolled trucks directly from the farm to you.
ENJOYMENT:
All these factors add up to top-quality tulips and a great experience for you! ENJOYMENT: All these factors add up to top-quality tulips and a great experience for you!
It's Tulip Time, All the Time!
At Sun Valley, Spring isn't the only season serving up bright, beautiful tulips! They have access to newer and premier varieties of standard tulips, offering over 45+ varieties in Fall, 50+ in Spring and 20+ in Summer. They also have an abundant array of sought-after novelty Parrot and Fringed varieties year-round.
FALL: SEPTEMBER – CHRISTMAS
Shhh! Don't tell the tulips it's Fall! Sun Valley's Fall tulip bulbs come from the Southern Hemisphere where the seasons are opposite ours. They grow them during the Fall, when they think it's "Spring". By partnering with these bulb growers they'reable to provide you with exclusive varieties in wonderful Fall colors and in plentiful supply.
SPRING: JANUARY – MAY
During the Spring, Sun Valley is thrilled to offer a broad selection of the finest and favored premium tulips as well as many newer varieties.
SUMMER: MAY– AUGUST
Sun Valley has invested in an extensive pre-harvest care system in order to trick the bulbs into thinking it has been a long winter—extending the tulip season into the summertime. They've carefully selected vigorous varieties you will love for the Summer season.